I did a lot of cooking over the weekend, and wanted to post some pictures and recipes. The first, Potato Carrot Soup, is a simple yet flavorful combination of potatoes, carrots and onions in a creamy/chunky soup. Good, quick, and feeds body and soul.




Potato Carrot Soup
1 medium onion, chopped
2 cloves garlic, minced or pressed
2 celery stalks, chopped
2 large carrots, chopped
8 medium potatoes, peeled and cubed
4 cups vegetable broth
1 tsp. basil
1/2 tsp garlic powder (if not using fresh)
salt & pepper to taste

Saute the onion, garlic, and celery in water or vegetable broth until tender. Add potatoes and carrots, broth, and basil; bring to boil, then reduce heat and simmer 20-30 minutes, or until potatoes are soft. Using a potato masher, mash half of the soup right in the pot. Alternately, you could use an immersion blender, blending until the soup is half way creamy. If you want a creamier soup, blend everything (in batches if necessary) until smooth.



The second cooking extravaganza was my labor of love, Vegan Fat-free Dolmades (stuffed grape leaves). Many recipes for these tasty appetizers include meat, and traditionally, they are made with oodles of olive oil. In the past, I have made them vegan but not low-fat. This time, I was able to make them with brown rice and no added fat. They were delicious, and quickly gobbled up at my church's Wine Tasting. Unfortunately, I only took a picture of the stuffing while it was cooking. So, just imagine the finished product, a delicious, guilt-free tidbit. Or 100 of them. Made by me. All afternoon.

Vegan Fat-free Dolmades

3 medium onions, diced finely
1 1/2 cups brown rice
2 1/2 TBS dried mint
2 tsp ground coriander
2/3 cup lemon juice
3/4 cups currants or raisins
3 cups water
2 bottles grape leaves in brine (about 50 in each)
1/3 cup lemon juice

Water saute onions in dutch oven, until translucent and starting to brown slightly. Add rice, mint coriander, currants, lemon juice, and water. Bring to a boil, reduce heat, cover and cook 40 minutes, or until rice is just tender. Place paper towel under lid, and let cool.



Remove leaves carefully from jars, rinse and drain. Trim any thick stems with kitchen shears.

Place leaf shiny side down with stem end facing you. Spoon a scant tablespoon of filling near the stem end. Fold up the leaf to cover the filling, fold in sides, and roll tightly towards the point of the leaf, tucking in the leaf as you go to keep it neat.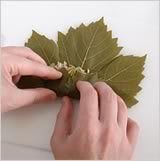 Photo from www.mediterrasian.com

Place seam side down in 13x9 baking dish. Continue until you have used all the whole leaves, packing them snugly together so they don't unroll while cooking. Torn, unusable leaves may be used to "patch" slightly torn leaves. Place any torn pieces over the dolmades in the baking dish. Cover with water so they are completely submerged and at least 1/2 inch below the surface of the water. Drizzle with lemon juice, cover with foil, and bake at 350 for 45 minutes. Cool in the pan, and serve at room temperature.

Makes approx. 100 dolmades