Soup was a big part of my childhood. My mother and my grandmother frequently made soup from scratch, using turkey carcasses or ham bones, stretching one more meal out of what appeared to be nothing. And my father loved to eat soup. Even on the hottest summer days, he would start dinner with a bowl of soup, insisting that it cooled him off. When my mother got too busy with other things to make her own soup, my father became an accomplished soup cook himself. Campbell's was also a frequent visitor at dinner too, during those busy years when my sister and I were teenagers.

I have continued that soup-making tradition in my own home, though I don't use animal products any longer. Lentil, bean and rice, minestrone, split pea, whole pea; you name it, I make it. I already had a very good recipe for split pea soup from Jeanne Lemlin's Quick Vegetarian Pleasures, but I was intrigued by this recipe of Mary McDougall's that promised vegetables along with my split peas. Here is Mary's recipe, along with my notes in italics.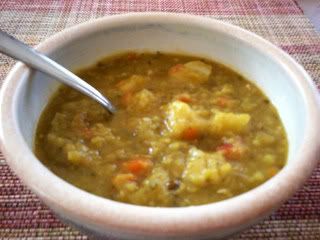 Hearty Split Pea Vegetable Soup

This is a thick soup filled with chunky vegetables and it is very comforting on a cool, rainy day. Serve by itself in a bowl, or ladle over brown rice for a satisfying meal.

Preparation Time: 15 minutes
Cooking time: 1 hour 10 minutes
Servings: 6-8

2 cups dried split peas
8 cups water
1 large onion, chopped
3 stalks celery, chopped (I used 2)
2 carrots, chopped
2 cups chopped fingerling potatoes (I used 3 cups peeled all-purpose)
2 cloves garlic, minced
2 tablespoons parsley flakes
2 bay leaves
1 teaspoon dry mustard
½ teaspoon smoked paprika (I didn't have this, so I used 1/2 tsp regular paprika and 1/2 tsp liquid smoke)
freshly ground white pepper
1 large tomato, chopped (I used approx. 1 cup drained canned petite diced tomatoes)
½ cup chopped fresh cilantro or parsley (I didn't use these at all)
1 TBS. reduced sodium tamari

Place the peas and water in a large soup pot. Bring to a boil, reduce heat and simmer uncovered for 20 minutes. Add the remaining ingredients, except the tomato and fresh cilantro or parsley. Mix well, bring to a boil again, reduce heat, cover and simmer for about 45 minutes, until all vegetables are tender. Add the tomato and fresh cilantro or parsley. Season with tamari and a bit of sea salt (I used about 1/2 tsp. salt,) if desired. Mix well and let rest for 5 minutes before serving.

This is a delicious, hearty soup that my father would have loved, and my grandmother would have been proud to call her own.




Monday, February 09, 2009 | Labels: soup |